Veterans are a joy to work with.
When counseling employees of the Veterans Administration, they uniformly comment that they love working with the veterans. My personal experience reflects that same feeling.
Maybe it's because they are so grateful. Perhaps it's their willingness to receive help. There's something there that's hard to describe—but it's real. Maybe that's it—they're real.
Anyway, I'm grateful that they can see me free of charge when they're referred by the Veterans Administration. This reduces their stress level significantly, because—let's face it—finances can be stressful.
I use a variety of techniques, including mindfulness, to treat PTSD. Plain ole loving kindness helps, too. I create a safe space for them to talk about anything that comes to mind and that they feel comfortable saying to me. Veterans are welcome in my office.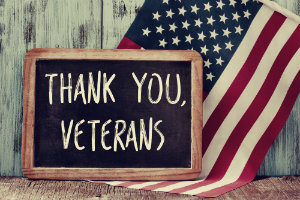 I am honored to have been included in this article that appeared in The Kansas City Star:
Martha Childers, a Kansas City counselor who works with veterans, said studies have shown being in nature can positively affect the struggles veterans have — such as anger and anxiety, mental fatigue, problem-solving skills and feelings of empowerment — in a way that other methods can't.
I feel like nature feeds us and ultimately we're part of nature. If we live separately it's not healthy. (All healing methods are) very important. I think using all the tools is very useful, but there's all kind of things that when people get out into nature, they're going to trust each other.
For more tips on living, check out my blog.
---
Like this content? Don't forget to share it!