In the last 12 months, six trees around my house have died, been cut down, or blown over. I miss the shade. My home does, too.
Why We Need Trees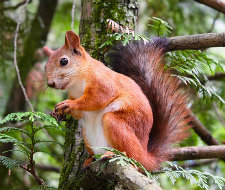 Trees provide many benefits in addition to beauty and shade. Our partners on earth, wildlife, use trees as their home and for nurturance.
The Arbor Day Foundation website states, "Trees clean air and water, slow climate change, ease poverty and hunger, prevent species loss, and feed the human soul."
Large trees along a street increase property values 3 to 15%.
They also reduce air conditioning needs.
Trees have also been found to reduce stress in humans.
Arbor Day also says, "Trees can be a stimulus to economic development, attracting new business and tourism. Commercial retail areas are more attractive to shoppers, apartments rent more quickly, tenants stay longer."
Please keep your neighborhood beautiful. Take care of the trees you have with proper maintenance and trimming, and plant new ones when you can.
---
For more tips on living, check out my blog.
---
Please note, this article first appeared in the West Plaza Neighborhood Association Newsletter, July-August 2018 issue on page 6.
Like this content? Don't forget to share it!