Gentle touch is important for us humans.
♦ My friends and I have a custom of hugging each other upon greeting.
♦ Europeans greet each other with cheek kisses. Every country has strict rules around how many cheek kisses are shared: one for each side in France, three in Switzerland, and so forth.
♦ Eagerness on the part of the initiator can be expressed by holding the upper arms.
The Benefits of Touch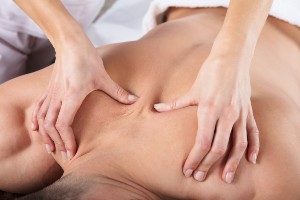 Who does not feel better after a massage? Research shows that massage has a wide range of benefits including:
decreased heart rate,
lowered blood pressure,
less cortisol secretion, and
increased oxytocin.
Other benefits are increased serotonin and a decrease in substance P, resulting in relief from pain.
Psychological benefits include:
improved attentiveness,
decreased depression, and
better immune function.
If you want to feel better, get a massage, and introduce more touch into your life!
---
For more tips on living, check out the rest of my blog or follow me on Facebook, Twitter and LinkedIn.
---
Like this content? Please share it.