This is the third part in a blog series about hair and skin care: Hair and Skin Care Tips from Around the World and The 4 Parts of Vibrant, Healthy Skin Care.
Lackluster hair can be an indicator of stress, lack of sleep, and poor self-care habits.
Hair is elastic and tears easily. Because it is cut regularly, short hair can better tolerate the damaging effects of hair dryers, as well as harsh treatments and products. Long hair requires special care because it is cut less often or perhaps not at all.
Combing and brushing hair. Gently brush or comb long hair. Use a wide-toothed comb. Ms. Zhao said the Chinese use wooden or horn combs to avoid creating electricity, resulting in smoother hair. Use a natural bristle brush to keep hair long and strong. Avoid plastic bristles, which tear the hair. Leave any tangles in until you have plenty of time to gently remove them.
Once when I was traveling in India, a woman with long, thick, curly hair, told me she brushes her hair thoroughly no more than once a week. In this way, she avoided tearing her hair, which can happen when it is brushed or combed too frequently.
Shampooing. Experiment with shampoos and conditioners to find one you like. Harsh shampoos, such as those used to eliminate dandruff, can dry the scalp. Steer toward gentle products such as baby shampoos and those made from natural ingredients. Change products from time to time.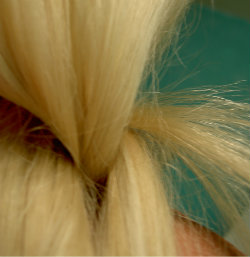 Before shampooing, braid long hair loosely to keep it from tangling. When washing, start with the scalp first and work toward the ends. After rinsing, condition the ends first and work up the hair to the scalp. Some people like to put a small amount of beer or vinegar in the water used to wash hair.
Drying. Avoid using hair dryers, as the heat will cause hair to break. After towel drying, allow the hair to dry naturally. If you are going out while it is wet, put the hair up into a bun or use clips.
Using oils. Oil produced by the scalp rarely reaches the ends of long hair. Applying oils and conditioners keeps hair nourished and reduces splitting.
While in India, I read an article in a national newspaper about an Indian movie star who was famous for her beautiful hair. She said that any shampoo and conditioner will do. Her secret was olive oil. Once I started using olive oil on my hair, it grew long, because it no longer broke on the ends. Skillfully using oils to treat the hair will result in soft, shiny hair.
Dousing the hair and scalp with ample cold-pressed virgin olive oil once a month will do wonders. Using oil heated to a comfortable temperature can be effective, as well. Ayurveda oil mixtures specifically for hair are available. Davis says that coconut oil "helps thicken hair and prevents hair loss if used on the scalp."
It is amazing how much oil the scalp and hair will absorb. Work as much oil as possible into the scalp and hair. Then slowly and gently use a wide-toothed (wooden or horn) comb to cover each strand with oil. Work tangles out carefully to avoid tearing. Tie the hair up and leave the oil in as long as possible—up to 24 hours. Then use plenty of shampoo to wash the hair, being careful to remove excess oil from around the edges of the hairline. Otherwise, the hair will feel and appear gummy when it dries.
In addition, you can apply oil after each shampooing to keep the hair shiny and to avoid split ends. After the hair is completely dry, rub a few drops of cold pressed extra virgin olive oil between the hands. Then rub it into the ends and gently over the surface of the hair. If the hair still feels dried out, apply a few more drops. Repeat as necessary.
Another option is to towel dry and lean over to allow the hair to hang down in front. After rubbing a palmful of Moroccan oil between the hands, massage it on the back of the neck, along the back of the hair, and finally into the ends.
Other Hair Care Tips
While traveling in Turkey, I had an opportunity to be with a family. Some of the women used henna on their hair. I have always wanted auburn hair, so using henna fulfilled this dream. They mixed some dry henna with water in a metal bowl and set it in the hot sun for several hours. After adding some lemon juice, they rubbed the paste into their hair. Washing it out after a few hours or overnight, the hair is soft, shiny, and has a lovely hue of red. The color is more or less permanent until the hair grows out.
Use clips that don't tear or one-time use rubber bands that can be cut or broken before removing.
Wild, curly hair might be tamed by wrapping it around the head and covering with a towel.
Covering the hair to protect it from the elements, like the sun and wind, can be protective. To avoid sun damage, use products with sunscreen.
Before bed, braid the hair loosely to avoid tangles.
One tablespoon a day of blackstrap molasses taken orally may help retain hair color and contribute to softer, smoother hair. Davis says, "Molasses (unsulfured) is a great way to reduce hair loss and regain the luster through taking it orally in a drink daily. The minerals will help with muscle spasms, sleep, and ensure a healthy head of hair."
To nourish and rejuvenate hair follicles, molasses can be diluted with water or coconut milk and applied to the scalp. It should be left in for 15 minutes before being washed out with warm water.
For individuals with black hair, Ms. Zhao of Happy Feet and Hand Spa says that eating black sesame seeds and walnuts can keep hair darker and shinier.
 Summary
Beautiful skin and hair enhance our lives and well-being. Discovering and incorporating self-care habits that fit your unique needs will provide the freedom to more fully enjoy your physical being.
---
This is the last of a 3 part series on healthy hair and skin care.
Part 1: Hair and Skin Care Tips from Around the World
Part 2: The 4 Parts of Vibrant, Healthy Skin Care
Healthy Habits and Goals for Beautiful Hair and Skin, January 2015, written by Martha Childers, was published in Evolving Magazine.
Hair and Skin Tips from Around the World, written by Martha Childers.
---
---
Please note, a version of this article was published in Evolving Magazine, January 2015. Portions of this article also appear in the West Plaza Neighborhood Association Newsletter.
---